The
i
TV-Studio is a research and development project by the
philosopher
, scientist, and inventor
Bob Doyle
, who has been adapting consumer devices to reduce the cost of film and video tools for over forty years. At this time, there are five major products in development:
The iTV-Studio is a rolling Pelican case with a Blackmagic Design ATEM switcher that supports eight 4K sources. It records to Apple Pro Res on a Hyperdeck Shuttle, and streams live to the Internet via a Teradek VidiU. Two (or more) satellite iTV-Studios can be linked by cables, fiber optic, or wirelessly to provide coverage for major events such as sports.
The iTV-Intracom provides headphones for program director, tech director, audio engineer, etc. The Intracom is a one-way intercom that sends the program audio (in left ear) and director's interrupt (in right ear) to all the camera operators' headphones;
The iTV-Van is a small Outdoor Broadcast Truck that supports 16 or more cameras as far as 1000 feet away, to cover the largest sports venues. Fifteen cameras can be managed with as few as five camera operators using iTV-TriCam mounts (some cameras can be equipped with remote pan-tilt-zoom). Four monitors in the iTV-Van show multiview images from satellite iTV-Studios hundreds of feet away. The iTV-Van has multiple possible Internet connections, including wired Ethernet, fiber optic, wireless microwave bridge, and cellular modem. A microwave dish antenna on the roof can connect by line of sight to an Ethernet connection in a building miles away, for streaming video to YouTube Live. A Yagi antenna amplifies cellular connections when no Ethernet is available.
The iTV-Prompter is the lightest and least expensive television prompter of its size (16" screen), with iTV-prompting software and iTV-Rundown program scheduling software with roll-in automation;
The iTV-TriCam Presentation System allows a single camera operator to manage three camera views - a tight shot on the speaker, a wide-angle view of a panel discussion, and a backward-looking or side view for audience questions. An HDMI feed from the presenter's laptop produces high-resolution images of the speaker's slides to the iTV-Studio switcher. The multiview screen shows the camera operator which camera is now on the program, which one is on preview, and what all other cameras are shooting. When the room layout is wider than it is long, a Bi-Cam and Moni-Cam (each with multiview screens) let one camera operator run two cameras at the back of the room and another camera operator at the front and side cover reaction shots of the audience.
The iTV-Newsroom is a poor-man's studio pedestal camera, with prompter, program, and multiview monitors and a simple approach to tally signaling; In front of the multiview monitor and above the teleprompter is a program monitor for the talent.
Other accessories include:
iTV-Program Audio Monitor and Intracom supports headphones for program director, tech director, audio engineer, etc. and a one-way intercom to all the camera operators.
iTV-MOS is a media object server to cue up and roll-in video files when prompted by the rundown schedule;
iTV-Multiview on-camera monitors allow each camera operator to see the other camera views, which camera is on Preview, which on Program.
iTV-Wireless Cameras and the Wireless Steadicam provide cable-free operation, including the iTV-CoachCam for on-field or on-floor interviews and the iTV-BasketCam for wide-angle views down on the basket.
iTV-Remote includes a single camera, a laptop with NLE, and a USB monitor with synchronized iTV-Rundown on location, for a producer-reporter team contributing a live package to the iTV-Studio.
iTV-Webcam connects remote guests via Skype or Google+.
iTV-Replay is a low-cost instant replay system. Camera operators can cue up the best shot from media in a camcorder.
iTV-ISO records camera videos to an array of SSD drives for post-production.
The iTV-Studio Back Story
In the early 1970's, Bob brought professional synchronous sound shooting and editing on magnetic film to consumer-quality Super 8 movie cameras. Film schools around the world used Super8 Sound equipment, including Bob's Harvard-Radcliffe Filmmaking Workshop.
Hollywood's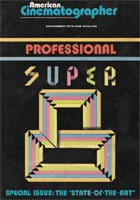 American Cinematographer magazine devoted the November 1975 issue to "state-of-the-art" tools and techniques for Professional Super 8 developed by Super8 Sound, which continues today as Pro8mm in Burbank, CA.
Super8 Sound was a sustaining member of the Society of Motion Picture and Television Engineers and Bob was a full member of the SMPTE sound engineering committee, where he drafted the 1-pulse-per-frame sound synchronization standard. He has rejoined the SMPTE to assist with the development of live Internet television for the 21st century.
In the 1980's, Bob designed and funded low-cost, three-color-camera television studios for Brown University's BTV and Harvard University's HRTV.
In the 1990's, he launched Quad Sound Studios at Harvard, funded the start-up of Videomaker Magazine, and was the "digital video guru" of NewMedia Magazine, where he covered the transition of video from analog to digital technology with a special interest in nonlinear desktop video editing (NLE).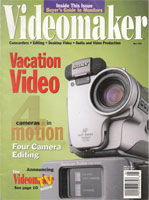 Bob and his colleague Stuart Cody developed a technique for shooting with four Hi-8 camcorders, patched though a Panasonic WJ-MX50 4-input S-video switcher for live recording onto a fifth camcorder.
He built an RC time code to SMPTE time code converter so he could re-synchronize playback of the isolated Hi-8 tapes with an 8-track TASCAM audio recorder. Any part of the event could again be switched in post to improve where cuts were made.
He and Stuart described this in a cover story for Videomaker in 1993 titled
"4 Cameras in Motion, Four Camera Editing." Today this is a trivial task for a
nonlinear editor with multi cam editing that automatically synchronizes media
files from camcorder SD cards.
i
TV-Studio, four PTZ cameras streaming via
UStream
from Bob's lab over a decade ago.
The iTV-Studio Project
Bob's latest multi-camera development efforts put the core technology needed to produce a three- (to six-) camera television show
streaming live
to the Internet from a roll-about suitcase small enough to fit under an airline seat, weighing twenty-five pounds and consuming less than 60 watts of power.
Bob's current motto is "YouTube, but iTV." His new iTV-Studio tools are not needed for shows that are edited in post production. But iTV-Studio and its many accessories are the lowest-cost, easiest way to produce multi-camera live OTT television, for example sports broadcasting or news production.
Most OTT (over the top) or "TV Anywhere" streamed media is produced offline, uploaded to the Internet, and then played on demand in a nonlinear fashion. For this, you can use multiple camcorders that need not be connected. You simply remove their memory cards, import the files into a video editing program like Apple's industry-standard Final Cut Pro X. FCPX can synchronize the camera files based on their audio tracks. All the switching between cameras is done in post-production, with none of the pressure of a live event.
But much future television programming will be produced and viewed in linear "real time." Besides Livestream and Ustream, Google now offers us YouTube Live. Live internet television programs will be able to develop enormous world-wide audiences, not limited to today's local broadcast and cable outlets. Bob calls this iTV for internet television (with a lower-case italic i, not to be confused with Britain's ITV - Independent Television).
The amazing ATEM Television Studio has reduced expensive hardware to inexpensive software. It virtualizes electromechanical buttons, sliders, dials, faders, and numeric displays. It also virtualizes the many television monitors needed in the past in a single multiview display. It replaces hardware atoms with software bits, material with pure
information
.
The heart of the
i
TV-Studio is BMD's
ATEM Television Studio
, a 1U rackmount device with the state-of-the art electronics of a broadcast-quality HD switcher. It provides basic cuts, wipes, and dissolves, as well as upstream and downstream keys, but with none of the expensive mechanical buttons and faders of typical broadcast gear. All switching is done in software. You can add an electro-mechanical panel, but it increases switcher cost by about $5000.
Inside the iTV-Studio case is a 15" touchscreen laptop computer and a 16" USB monitor. The touchscreen laptop computer provides the switcher control surface, a media mixer with seven stereo input controls and a master output level control, a six-input camera-color-control interface, and a media still store. You can cut, wipe, or dissolve by touching the on-screen buttons or pressing the laptop keys.
The extended desktop on the 16" monitor lets you run other programs simultaneously, such as the playlist manager for a media object server (MOS) or a Skype session that allows remote guests in high resolution. One of the iTV-Studio HDMI inputs is connected to the HDMI output of the laptop computer.
The computer has three monitors that work together as a single extended desktop. The first is the laptop screen, the second the USB-powered monitor (these two have 1366x768 resolution), the third is one of the HDMI inputs to the iTV-Studio, with full HD 1920x1080 resolution. You can initiate a Skype or Google+ interview on the 16" monitor and then drag it to be full-screen on the iTV-Studio input (typically Camera 4 in a basic 3-camera iTV-Studio system).
Inside the lid of the iTV-Studio is a 20" HD monitor displaying the ATEM multiview screen with virtual program and preview monitors, six camera monitors, and two media still stores. Bob's original iTV-Studio in the 1990's was built on the Panasonic WJ-MX50 S-Video switcher, which cost $3500 in 1993 dollars. It had four 8" Sony CRT monitors for the cameras and two 12" monitors for preview and program. The monitors alone cost about $3000. Camcorders, then at $600, cost twice the latest low-end HD models. So the current iTV-Studio is less expensive than the original and a fraction of the weight and size.
The ATEM Television Studio incorporates H.264 hardware compression for recording program output to a hard drive connected to the laptop computer. It also includes an ATOMOS Ninja Star device that records Apple Pro Res to a Compact Fast card.
Unfortunately, the H.264 compressed stream cannot be sent to a streaming server. So the iTV-Studio includes an Internet broadcasting appliance for feeds to Livestream, Ustream, Twitch (now Amazon) or YouTube Live, so your show can be seen as it happens by as many viewers as you can attract.
The broadcasting appliance is a Teradek VidiU for a basic system built around ATEM Television Studio. For iTV-Studios built on Blackmagic Design's Production Studio 4K models, which do not record compressed video, we use either the Matrox Monarch HD (which records on SD cards and streams) or a combination of VidiU for streaming and BMD's Hyperdeck Shuttle, which can record on SSD drives in a number of formats (including uncompressed video and Apple ProRes 422).
Three to Six Full HD Camcorders.
To keep the basic iTV-Studio affordable, we equip it with three low-cost consumer camcorders. We find that they have excellent zoom lenses to cover large-venue events, as well as low-light capabilities that deliver good images in available light.
Every iTV-Studio is equipped with multiple SDI and HDMI outputs and inputs for
six camcorders,
or five camcorders and the laptop HDMI for a media server or for remote Skype input,
or four camcorders plus two laptops.
In this last case, the optional second laptop supports a second switcher control panel - for an audio engineer, for example. It also provides a separate interface and hard drive for serving video files (reducing CPU cycles on the first laptop), or a home for our
iTV-Rundown
program scheduler with
iTV-Prompter
software. We equip the second laptop with another USB-powered 16" monitor